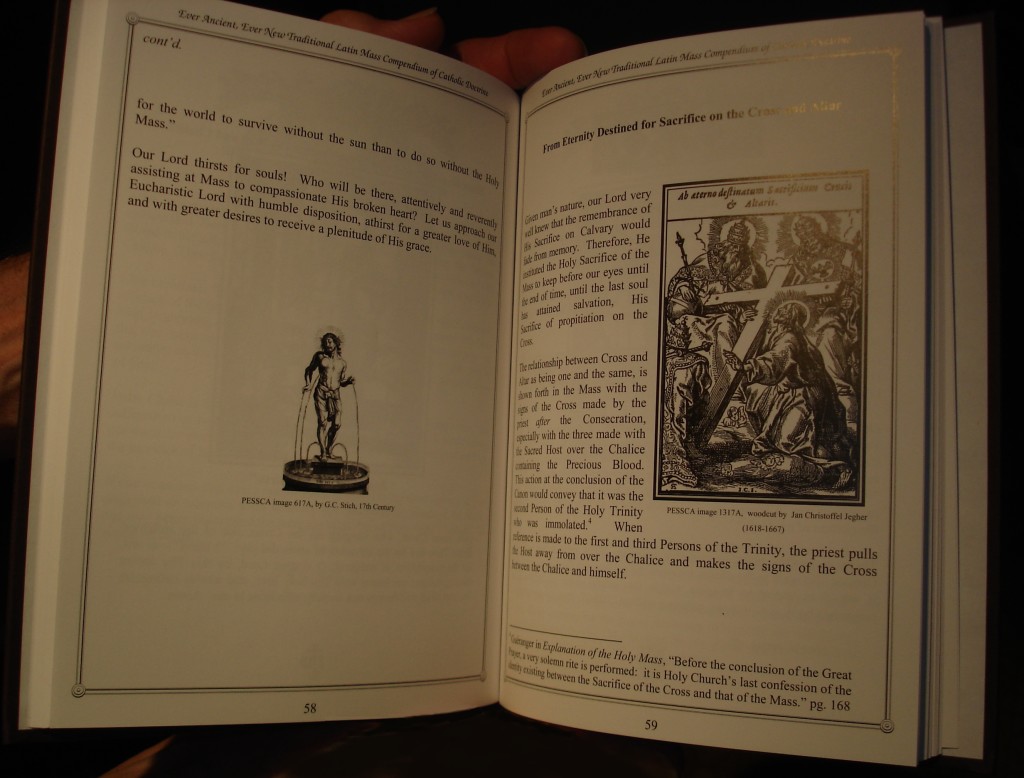 The book is EVER ANCIENT, EVER NEW TRADITIONAL LATIN MASS Compendium of Catholic Doctrine.  Truly, if one knew and understood the contents of this book on the Mass, he would know the essential saving doctrine of our Lord Jesus Christ once entrusted to the Apostles.   Not only would he know the infallible dogma, but he would fall more deeply in love with our patrimony – the old Latin Mass!    Purchase one, and see for yourself. Just follow the link above.
Two of the most recent comments about the book are shown here:
"I just love your book and have lent it to the priest who offers the Traditional Latin Rite where I attend Mass. I had been waiting to ask him how he liked the book before responding to you.
"Well, I finally stopped in the sacristy after Mass today and he really liked the book. He said he still wanted to show it to a gentleman so I figure I will let him have it and I will purchase another one for myself.
" I am familiar with the works of many of the authors whom you quote throughout your book. You seem to say just what is necessary to deepen a persons knowledge about the Usus Antiquior. I also love the format you have chosen which describes the entire Mass, including Christ's complete Passion from start to finish. The additional chapters on the priests vestments etc. where an added delight.
"Of all the books I have read on this topic (I was right in the middle of P… K…'s [title of book omitted] when your book arrived), yours was the one that I truly wanted to share with so many people even before finishing it..When my seconds copy arrives I have a few choice people in mind whose love of this Mass will only deepen further after reading your book as my love also has deepened.
"I hope your book reaches many, many people."
Regards,
D. A., U.S. A
———————————————
And just today, this:
"The book arrived ! Exceeded my expectations. Most likely lost information which has been retrieved here. Just beautiful."
R. R. N., Ohio