Above is the title of the article on Mother Teresa as found in the publication of the late Abbe de Nantes, CRC He Is Risen!, No 15, November 2003.  The following is taken from  pgs. 2, 3 of that newsletter:
"An account of it [interreligious celebrations to mark the 25th anniversary of the Missionaries of Charity foundation, 1975] was written by a nun but was only intended for her sisters, the Missionaries of Charity throughout the world.  The review Missi, nevertheless, published excerpts illustrated by photos…
"It all got off to a start on the morning of 28th September in the Armenian church.  Then after a visit to the Protestants of Calcutta, the Methodist, 'Mother hurried off to the Jain Digambara Temple with a group of nuns.  When they entered, seven drums,two cymbals and three pairs of Jerry Jerries welcomed them.  It was in a large square room; rugs were spread out on the floor.  We were then led to the four digambaras (Jain monks).  These monks belong to the strictest sect of Jains and are contemplatives who observe five vows: non-violence, respect of property, fidelity, celibacy, and poverty, including clothing, and are completely naked…..The four of them were seated to the left of the altar, while to the right were the female Jain religious, dressed white saris….'
"On 1 October, the ceremony took place among another group  of Jains; on 2 October in the Church of God where[were]..celebrated the merits of Mother Teresa….
"On 3 October, they went to the 'Hindus to attend the solemn prayer of Brahmo…'at the Hindu temple…everyone touched Mother's feet and led her into the shrine.  All those present invoked the one hundred names of God with great devotion….'
" 'That same evening at 4:30 we [the single quotations are the written record of one of the Sisters of Charity reporting] were with the Parsis praising the Lord for His goodness.'
The Abbe de Nantes explains who the Parsis are: " The Parsis are Persians who refused to convert to Islam and kept the Zoroastrian religion."  They are Manichaeans.
"On the morning of 5October, 'the Mass of thanksgiving was celebrated in our cathedral…..Then Mother and the nuns went to another thanksgiving service organised by a third group of Jains.' "
"Then they went to the Sikhs…" (a religion with elements of Hinduism and Muslimism)
"On 6 October, the thanksgiving service was held at Maghen David synagogue."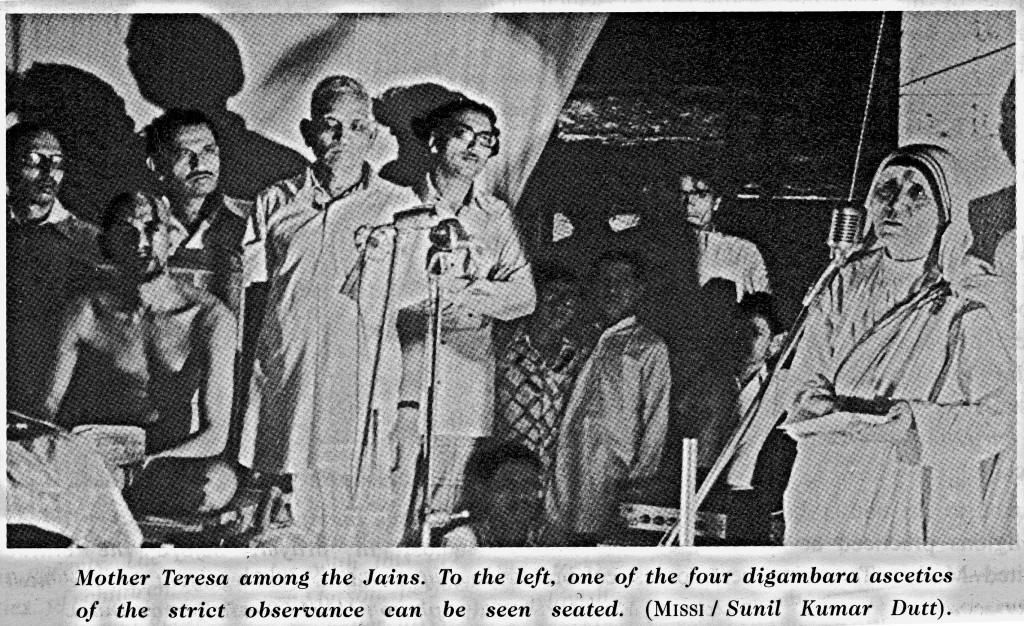 _________________________________________________
Mother Teresa undoubtedly had a kind heart, but I cannot and will not be recognizing her as the "real thing" – an authentic, Catholic saint worthy of emulation.  I certainly don't believe her inter-religious activities were pleasing to God. Would He want to hold her up to His Church as a role model? I don't think so!