A few days ago while sorting through some old papers, I found an article I had clipped out of some periodical over 20 years ago. Unfortunately, I neglected to indicate from which periodical. The author is Frère Michel de la Sainte Trinité, a foremost authority on Fatima who had written several articles, plus three authoritative, well-researched volumes on the subject. Based on his research, he suggested that the Third Secret with the words of Our Lady which Sr. Lucia had written down read something like this: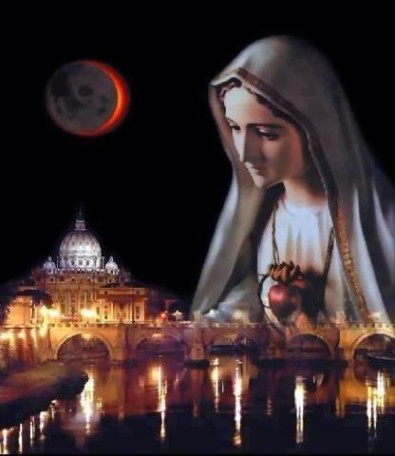 "While in Portugal the dogma of the Faith will always be preserved, in many nations, perhaps in almost the whole world, the Faith will be lost. The pastors of the church will be gravely lacking in the duties of their charge. Through their fault, consecrated souls will let themselves be seduced by pernicious errors spread everywhere. It will be the time of the decisive combat between the Virgin and the devil. A wave of diabolical confusion will unfurl on the world. Satan will get into the highest summit of the Church. He will blind the minds, harden the hearts of Pastors. For God will have delivered them to themselves in punishment for their refusal to obey the requests of the Immaculate Heart of Mary. That will be the great Apostasy announced for the "last times", the false lamb", the "false prophet" betraying the Church to the benefit of the "Beast", according to the prophecy of the Apocalypse. In the end, my Immaculate Heart will triumph. The Holy Father will consecrate Russia to me, and she will be converted and a certain period of peace will be granted to the world."
—————————————
Update, May 26, 2017:
Interestingly enough,  in his presentation of May 19, 2017 at the 4th annual Rome Life Forum organized by Voice of the Family, Cardinal Burke not only stated that the consecration of Russia had not been done explicitly as requested by Our Lady, ("But, today, once again, we hear the call of Our Lady of Fatima to consecrate Russia to her Immaculate Heart, in accord with her explicit instruction." ) but he also made mention of Frère Michel de la Sainte Trinité, saying: 
"I now return to the third part of the Secret or Message of Fatima. Without entering into a discussion regarding whether the third part of the Secret has been fully revealed, it seems clear from the most respected studies of the apparitions of Our Lady of Fatima, that it has to do with the diabolical forces unleashed upon the world in our time and entering into the very life of the Church which lead souls away from the truth of the faith and, therefore, from the Divine Love flowing from the glorious pierced Heart of Jesus. Frère Michel de la Sainte Trinité, in his monumental study of the apparitions of Our Lady of Fatima……"
Surely,  his Eminence would not have adverted to Frère Michel without being familiar with his writings!
The books on Fatima authored by Frère Michel  may be purchase by following this link: https://www.goodreads.com/author/show/5146630.Frere_Michel_de_la_Sainte_Trinite