We have started a series of posts for FB on priestly vestments to supplement our page on UNDERSTANDING THE THEOLOGY OF THE TLM.  Here is the first of the series:
The priestly vestments worn for the Holy Sacrifice of the Mass were derived in style from the secular dress of the Graeco-Roman world. However, Gihr who references Suarez, states that the sacerdotal vestments of the early Church were not street clothing: "To the believing eye and mind it would appear as a desecration of what is most holy, an outrage against the Divine Mysteries for one to attempt to offer the Holy Sacrifice at the altar in the ordinary everyday dress." It is of tradition that priests were not permitted to wear their officiating garments as profane clothing. Their vestments, though of the ordinary style then in common usage, "as rich and as beautiful as possible…[were] allowed to be worn only at the celebration of the divine Mysteries."
The ancient forms of vestments were seen up until the 17th century. Gihr contends that after this, a clear understanding of the purpose and the symbolic significance of the specific vestments was lost. It would appear that he did not approve of the smaller and stiff Roman ornaments which Raymond James calls a "mere caricature of the traditional form"  – something which looks more like a scapular.*  We refer to it as a "fiddleback".
It seems that the reason for cutting away at the ample fit of the early chasuble – thus resulting in the "fiddleback" – was for ease of lifting the arms at the Consecration. With the accruement of ornamentation in elaborate embroidery and precious metals, thicker, stiffer material was needed for support. It was convenient to cut off the fabric at the shoulders for greater ease of movement.
To get an idea of the appearance of a priest celebrating Mass in the ancient, conical style of chasuble, here is a painting of St. Nicholas of Tolentine who lived in the 13th century.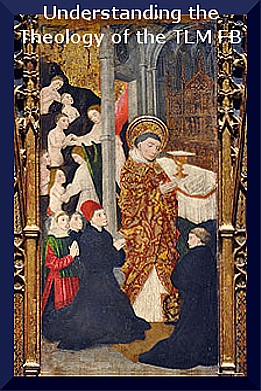 ___________
*Source: St. Bede Studio