Yesterday I received the relics I had requested of Sr. Lucia of Fatima!  Needless to say, I was overjoyed!  I believe it took something like 2 months to receive them.
Enclosed was a card with a hand-written message, which in part, reads (It is hard to make out the writing but I think I have deciphered it correctly.):
______________________________________________________
Dear Señora
Con mucho gusto le mandamos estas reliquias de nuestra Hermana Lucia, cuyo proceso de Beatificacion esta en curso. Nos son concedidas muchas gracias atribuidas a su intercesion.  Lo creemos!
Si le interesa, en la internet puede…….
______________________________________________________
Translation: It is with much pleasure that we send you these relics of our Sister Lucia, whose beatification process is open.  Many graces attributed to her intercession are granted to us.  We believe it!
There is more on the back of the card, but it is a personal note to me which shall remain private.
Here is what the relic cards look like.  I have photocopied the front of the note for all to see.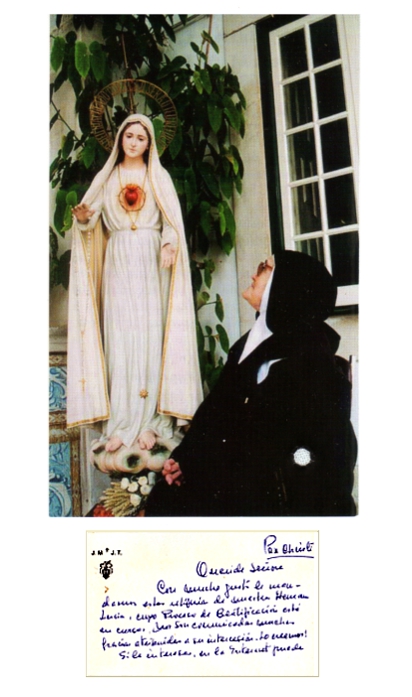 Sr. Lucia is a saint.  She is in heaven because our Lady promised to take her there!  Pray with confidence to her.  She is more than favorable to those who ask for her intercession.