It's going to be a long story before I get to my point, but stay with me. About a week ago I was watching a youtube in which a priest who had been attending a conference for exorcists held this past year in Mexico City, was interviewed.  It was a most fascinating topic, but it is not necessary to recount everything except what is needed to form an urgent appeal to Catholics living in the Joliet diocese.
There were two things in that interview which have persisted in my mind.  I will briefly mention one and concentrate on the second.  The first was that devils not only can possess a person, but that they can "possess" a town.  Father mentioned one saint (I didn't catch the name.) who was able to discern gnat-like swarms of devils hovering like dark, thick, smoky clouds over a certain town, and blocking its inhabitants from the life-giving rays of the sun.  One may safely surmise that such might be the case in places where "same-sex unions" or  other such vile practices are protected by 'law'.
In this context, Father mentioned the sins of abortion.  I had never heard it put this way, i.e., that every abortion empowers Satan.  He said that since the devil wants to ape God, whose innocent Son was sacrificed and offered to Him in propitiation, he also desires the sacrifice of innocent blood. Every abortion is an offering made to him!  Abortions give him  satisfaction, and also greater power over souls.  
But here is the good part:  Father stated that Colombia had been consecrated to the Sacred Heart of Jesus in June of 1902, and the consecration had been renewed yearly. (This was done until 1991, when a hostile government revoked the practice.)  Yet, as anyone knows, Columbia had not exactly been a paradise of peace and tranquility.  Like many other countries, it has seen its share of violent, Communist-provoked revolutions.  There was something, though, that happened in 2006 that started to transform the country.  After 2006, unexpected events attributed to divine intervention began to occur. Most recently, the country overwhelmingly rejected legalizing same-sex 'marriage', and they are making some headway in protecting the unborn.
In March of 2008, the three countries of Colombia, Ecuador and Venezuela were on the brink of war, but it was averted when President Alvaro Uribe of Colombia initiated the praying of the rosary for peace.  The rosary was actually prayed in the Presidential Palace!  Another example of Heaven's predilection for Colombia occurred that same year with the rescue of 15 hostages held by Communist anti-government revolutionaries. In the daring operation, which Ingrid Betancourt (held captive for six years) described as miraculous, the rebels were subdued without a shot being fired.   The rescue resulted in a humiliating defeat for FARC revolutionaries whose ranks have dwindled since then.
Even the secular press has taken notice of Colombia. Take a look at the title of this issue of Time Magazine of April 23, 20012:
So what was it that occurred in 2006 to bring about these marvelous events?  In that interview on youtube, the Colombian priest mentioned that his country was engaged in spiritual combat, and that to fight a winning war, one needed to be properly equipped with spiritual weapons.  Colombia pulled out its Big Guns when on Oct 12th in the Cathedral in Bogota, the country was consecrated by heads of the Church, and President Uribe, to the Immaculate Heart of Mary. At the same time, the consecration to the Sacred Heart was also renewed.   It seems that Our Lord had been waiting for His Mother to be invoked along His side.  We are reminded of the Message of Fatima, in which Blessed Jacinta exclaimed that the peace of the world had been placed in the hands of the Immaculate Heart of Mary.
That kind of transformation can occur right here in the Joliet diocese. I believe we will be seeing it, but how quickly and how thoroughly, will depend on the degree of participation by the priest and laity.

I couldn't believe my eyes when I read the notice:  "In the diocese of Joliet, Bishop R. Daniel Conlon will consecrate the diocese to the Immaculate Heart of Mary on Oct. 13 at 9 a.m…at the Cathedral…Bishop Conlon invites all the people of the diocese to prayerfully consecrate themselves, individually, to the Immaculate Heart of Mary and to pray that they and the entire diocese might rely upon the inspiration and strength of our Blessed Mother…"  
The reason I say that I can't believe my eyes, is because some years back, I personally wrote to Bishop Imesch to ask if he would do this, but his negative replay was that it would be "redundant".   Later, when we welcomed Bishop Sartain, we presented him with a list of signatures requesting him to consecrate the diocese to the Immaculate Heart.  He said he would "think about it", but he never did.  (Granted, he was only with us a couple of years.) 
So, what am I asking all readers who live in the Joliet diocese?  Please, please approach your pastors and ask them to participate and to join the Bishop in also consecrating their parishes to the Immaculate Heart of Mary this coming October 13.  Send them a link to this article, if you'd like, or print it out and put a copy in their mail.  Remember what happened in Colombia.   With our whole heart and mind, let us enter into this covenant with our Blessed Lady.  We will give ourselves to Her so that She may inflict a resounding defeat on  the detestable enemy of our souls.  
Remember Colombia!
It can happen here in the Joliet diocese.  Pray and make reparation and consecrate yourselves on October 13.  If, and when, I become aware of graces bestowed as a consequence our Bishop giving his diocese to the Immaculate Heart of Mary, I will publish them here. Immaculate Heart of Mary, be the salvation of this portion of your Son's heritage, the churches in the Joliet diocese!
__________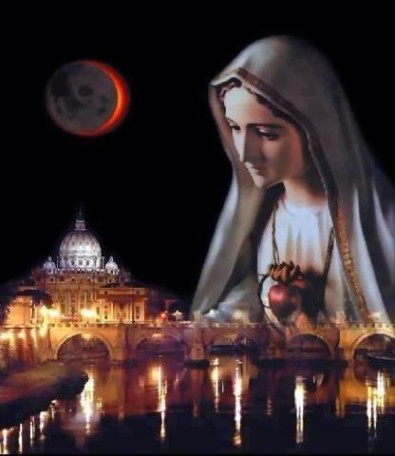 Sweet Heart of Mary be my Salvation!  Our Lady of Fatima, pray for us!