Fr. Valentine, FSSP, celebrated the apostolate's first Sunday TLM at its new location in Rockdale, IL, in the church of St. Joseph, diocese of Joliet.  Father has been appointed administrator of this mixed parish.  Undoubtedly, the arrival of a Latin Mass community has been disconcerting to existing parishioners, but given time, they will come to see and appreciate the tremendous blessing God has bestowed on them.
The Sunday bulletin had this insertion:
"What earlier generations held as sacred, remains sacred and great for us too, and it cannot be all of a sudden entirely forbidden or even considered harmful.. It behooves all of us to preserve the riches which have developed in the Church's faith and prayer, and to give them their proper place."                                                                                          – Letter to bishops, Pope Benedict XII, July 7, 2007

+++++++++++++++++++++++
This coming Feast of the Assumption, Fr. Valentine will celebrate two Masses, one at 7 a.m. and the other at 7 in the evening.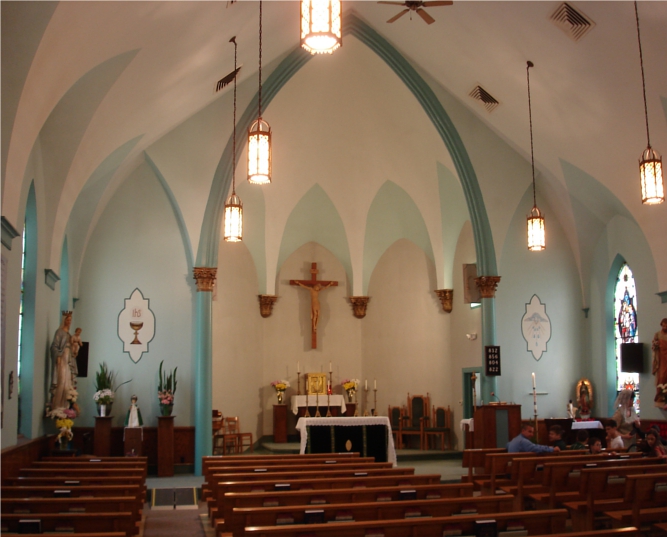 Sunday Mass is at 10:00 a.m.; Daily Mass is at 7:30 a.m.
St. Joseph Catholic Church
1329 Belleview Ave.
Rockdale, IL 60436   tel. 815 725 4469
Father celebrates Mass one Saturday per month at the Poor Clares monastery in Minooka, @ 8 a.m., in which case there is no Saturday morning Mass at St. Joseph.   I believe the monthly Mass at the monastery falls on the 3rd Saturday of the month.
Support the apostolate, if you are able!!