Two things we would like to bring to your attention:
1.)  We are updating our page  "A BEAUTIFUL WAY OF UNDERSTANDING THE TLM".  Almost half of the entries have been revised.  We will eventually get to all of them to improve and expand content.  Please note that there is now a Facebook page, where the posts are being uploaded.
2.)  First class relics – bone fragment of a finger – of Blessed  José Sánchez del Rio are now available, although it might take a miracle for you to obtain one.   Since I very much want one, I tried communicating with the parish church, but they do not answer.  But I pass on to all of you the information I have obtained.  It won't be easy, but it might be worth a try: a.)  Write in Spanish; b.)  *[See note below] Have your pastor submit a written request. c.)  The parish is asking for a donation of $900 pesos, plus costs for shipping. (I looked up the exchange rates, and found that the amount would be approximately $71 dollars.  The reliquary is Italian, and apparently well-made.)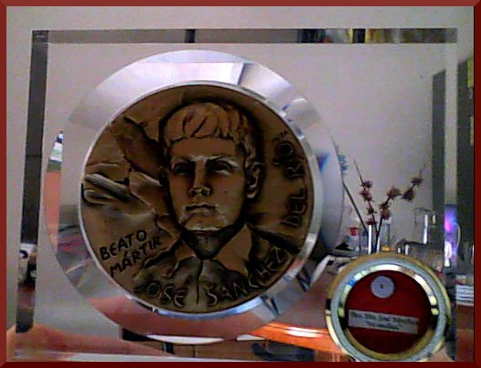 Here is a link to the FB page for the parish of Santiago Apostol in Sahuayo, custodian of the relics of Blessed  José Sánchez del Rio. I have tried communication via the site, but I get no answer there either.  Perhaps 'mañana'! 

  In Mexico, things have a way of proceeding at a snail's pace.

* NOTICE of August 9, 2013:  I have just read on FB, that the relics are meant only for parishes!  
The address:
Parroquia Santiago Apostol
Calle Morelos e Insurgentes, Col. Michoacan
CP 59040, Sahuayo, Michoacan
Mexico.