May 22, 2013: I've added a note of interest at the bottom of the page regarding Frederick's father.
I want to tell you where my thoughts have been today.  Yesterday's event has brought to mind that teaching from the Imitation of Christ:  "For man proposes, but God disposes; neither is the way of man in his own hands."
Yesterday was a perfect day, a lovely day for doing something special with one of my sons who enjoys traipsing around Chicago.  Since we happened to be in the vicinity, he wanted to tour a historic house of Frank Lloyd Wright design, completed in 1910.  But before I tell you about the house, first, imagine a young, newly married, 23 year-old man, sitting on top of the world.  At 29, he contracts the biggest name in architecture to custom-design a one-million-dollar-plus home for his wife and two children.  Of course, in the early 1900's, the actual cost was not 1 million, but that would be the equivalent in today's costs. The young man was Frederick C. Robie, and the grand house he had built still sits at 5757 Woodlawn Avenue, up a little ways from the Shrine of the Institute of Christ the King.  If it hadn't been for my son, the thought of going on a tour of this house would never have entered my mind.  But it was interesting, and for me, the human element was most thought-provoking.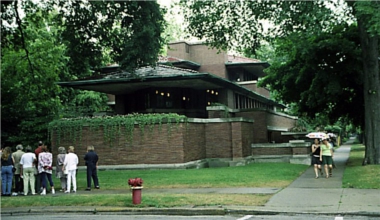 Recall that in 1910, many houses still had outhouses, coal heating, and well-water.  This house is a solid, two-layers-of-brick, three level structure, built with conveniences and advancements unheard of at the time: a two-car attached garage, built-in vacuuming system, water heating,  a shower stall, electrical wiring throughout, and light bulbs all over the place at the time when the incandescent light bulb was still a wonder to behold.  There is a nursery, children's playroom (which is the basement), servants' quarters, and a rather large kitchen for the time.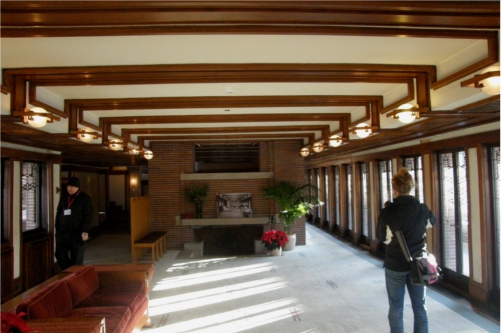 Actually, the style is not to my taste, but there were elements that I really liked, as for example the numerous French-doors on the second floor which allowed so much light to stream in, and which provided multiple access ways to the veranda. The large, extended, overhanging eaves protected the house from the hot, direct sun.
But the tragedy of it all, is that the Robie family only lived there about 14 months. They had moved into the home in 1910, shortly after Frederick's father's death in 1909.  It turned out that Frederick's "inheritance" was his father's heavy debt.  In order to pay the creditors, he sold the family business (His father, George T. Robie, a son of German immigrants, founded the Excelsior Supply Company in Chicago.)  Since Frederick had worked for him, now he also found himself without a job.
His wife, Lora, left him in April of 1911, taking the two children with her.  Equipped with a teaching degree, she went back to her hometown of Springfield,IL where she taught school to support herself and the children. Frederick sold the house in December, and after she divorced him in 1912, he went to New York where he worked as a car salesman.
So you see, why I have been thinking of Kempis's "Man proposes, but God disposes"?  Man often has grandiose plans for his earthly happiness, but there is no human being who ever attains and enjoys everything he wishes.  The truly happy man is precisely he who can say that he has nothing to bind him to this earth, neither in actual possession, nor in desired ones. Our goal as Catholics is to aspire to become rich in the love of Christ, for the Imitation says, "Love longs to be free, a stranger to every worldly desire, lest its inner vision become dimmed, and lest worldly self-interest hinder it or ill-fortune cast it down. Nothing is sweeter than love, nothing stronger, nothing higher, nothing wider, nothing more pleasant, nothing fuller or better in heaven or earth; for love is born of God, and can rest only in God above all created things."
Paradoxically, we will be happy with a joy of the heart which is expansive and uplifting. This kind of happiness is a virtue that with a little effort on our part, may be used to lighten the burdens of others and to spread good cheer!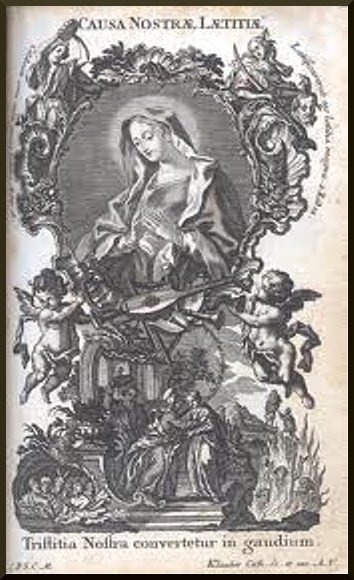 Oh! Mary, cause of our joy, pray for us!
Note:  Interestingly, there is mention of a George T. Robie in a Masonic publication (The American Tyler-keystone: Devoted to Masonry and Its Concerdant Others,Vol. 13) of February 1, 1899 which lists him as being one of several chairmen in charge of the Masonic Chicago Knights Templar charity ball.  Perhaps Frederick escaped the snares of this satanic cult.  I do not find his name associated with Masonic lodges.
Memento, homo, quia pulvis es et in pulverem reverteris.