Update, Thursday, April 11:  It is now being reported that, indeed, the pontificate of Pope Francis will be consecrated to our Lady of Fatima on May 13.  Santuario de Fatima.
"A 13 de maio em Fátima, em celebração para a qual é convidado todo o povo de Deus, o pontificado do Papa Francisco será consagrado a Nossa Senhora de Fátima."  [On May 13, in a celebration to which all the people of God are invited, the pontificate of Pope Francis will be consecrated to Our Lady of Fatima.]
++++++++++
Our Blessed Lord says in Scripture that He does not trust the heart of man.  If that is so, why should we?  Therefore,  I do not place my hopes in the man  Jorge Mario Bergoglio.  I place my hopes in the knowledge that our Lady made a promise and that in all certainty, it will be fulfilled: Her Immaculate Heart will triumph, the restoration of the Church's divine splendor now obscured, will shine forth once more, and this will be accomplished through the docility of a Pope  who obeys heaven's requests.
Will it be Pope Francis?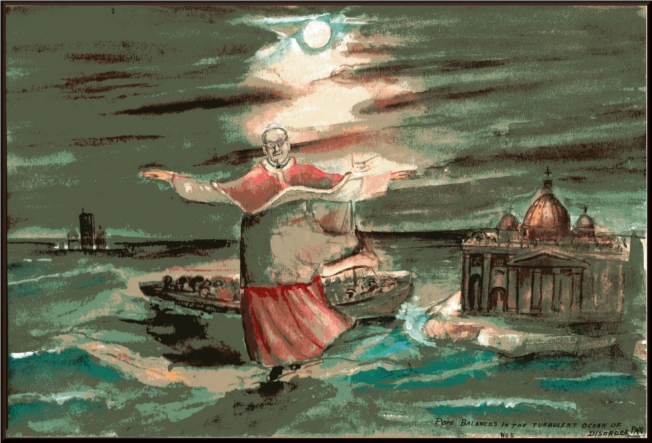 Time will tell, but what is certain is that our Lady of Fatima  can never be ignored, silenced, nor her messages buried.  We keep hearing over and over that word, "FATIMA".  She will not go away!
Below is the latest bit of news which continues to feed our hopes. (I translated only the pertinent part but the entirety in Spanish can be found on the Zenit site.)
+++
The President of the Portuguese Episcopal Conference, José Policarpo, in his opening of the 181st Plenary Assembly on April 8, said that Pope Francis twice asked him  to consecrate his ministry to Our Lady of Fatima.
"Pope Francis," said the Cardinal-Patriarch, "asked me twice to consecrate his new ministry to Our Lady of Fatima. It is a request that I can fulfill in the silence of prayer."  He said, "It would be nice if all of the Episcopal Conference were to be associated in the realization of this request. Mary will guide us in all our work and also in the method of fulfilling the desire of Pope Francis."
Present were the apostolic nuncio, archbishops and bishops, church representatives and agents of social communication.
The Virgin Mary appeared to three shepherd children in 1917 in the town of Fatima. Their prophecies [although not yet all] have been dramatically fulfilled and each year millions of faithful make pilgrimages to the sanctuary. John Paul II consecrated the world to the Immaculate Heart of Mary – as requested by our Lady [Our Lady specifically asked for Russia, not the world, to be consecration in union with all the world's bishops, something which has not yet been done.] who appeared to the three seers – a year after the assassination attempt on May 13, 1981, which was considered a miracle to not have been killed by Ali Agca. [Notice that the purported "accomplishment" of 1984 is completely ignored? Everybody is on to it that it wasn't true!]
+++
Let's keep praying, specially the rosary, for the fulfillment of the promises of Our Lady!