From CNA.  Can anyone imagine a statue of our Lady of immense proportions and visible for miles, overlooking New York's harbor to greet all who enter its shores?  Furthermore, can anyone imagine such a project welcomed and announced   by  the very president of the   U. S. A?  Well, certainly not here, but in Panama such a project has just been announced.
She lives; she reigns; she will conquer!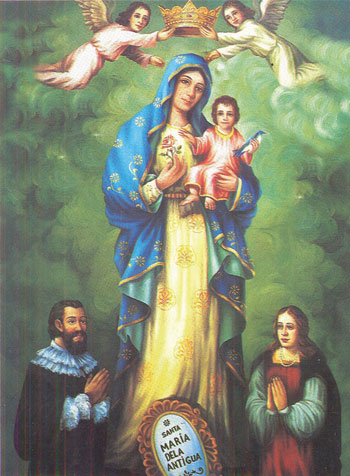 Panama City, Panama, Aug 16, 2012 / 04:02 pm (CNA/EWTN News).- President Ricardo Martinelli of Panama said that a new statue of Santa Maria la Antigua will be the largest one ever made of the country's patroness.
In a public ceremony on Aug. 14, Martinelli said the statue of the Virgin Mary will be erected on the coast in Panama City and will rise 100 meters – seven more than the Statue of Liberty in New York.
The project is part of the 500th anniversary in 2013 of the discovery of the "South Sea," the name first given to the Pacific Ocean by Spanish explorers, and the creation of the first diocese on South American soil.
"It will be an icon of this city for the 500th anniversary of the discovery of the South Sea and for the first Catholic church on land," President Martinelli said.
While he did not say when construction of the monument would begin, he said both public and private funds would be used to finance the project.
On Sept. 9, 1513, Pope Leo X created the first South American diocese in what was once the city of Santa Maria la Antigua de Darien. The city was founded three years earlier by Vasco Nunez de Balboa and Martin Fernandez de Enciso on land that is now part of Colombia.