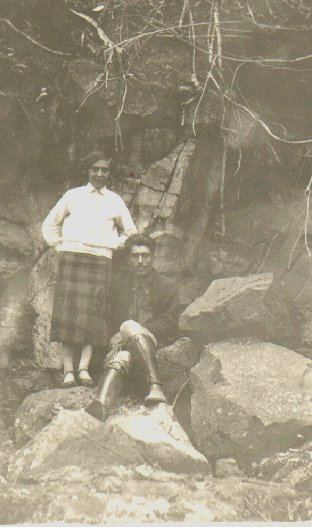 There is so little known of the female Cristero martyrs, that when I found this one, I wanted to translate it for you.   The original post is from Corazon Cristero on Facebook.  Here is how it reads:
"María de la Luz Camacho died in the atrium of the St. John the Baptist parish church in the village of Coyoacán in the city of Mexico, on Sunday, December 30, 1934.  She died a martyr when in defending the church and the faith, she was shot by her executioners.  She died with open arms in the form of a cross, while with unusual courage in a young lady of 27 years of age, she loudly let out in the face of her rabidly anticlerical executioners the last words to be uttered by her lips:  "¡Viva Cristo Rey!"
"María de la Luz Cirenia Camacho González was born on May 17, 1907 in Tacubaya.  Her father was Manuel; her mother, María Teresa, died when little María was only 7 months old.  Her childhood education was at a school run by religious, in the city of Puebla of the Angels.  In 1918 she returned to [the state of] Mexico to continue her studies with the Dominican Sisters, and later at the Catholic Institute for girls.  Lucha [her nickname which means "a fight"] was cheerful and of even temperament; she was resourceful, modest and she maintained a grand command of herself.
" In 1921, the Camacho family moved to Coyoacán, where María lived the last 13 years of her life, that is, until she left home to defend the parish [church] which the Red Shirts, a violent group formed by Tomás Garrido Canabal and commanded by Carlos Madrazo, were attempting to set on fire."
_______________________________________________________
August 16, 2012 – Here is an addendum to the post with a bit of info regarding the Communist Canabal which I have taken from Kneeling Catholic's article entitled "Mexican Protestants and the Cristero War":
"…The government"s anti-religious crusade may have reached its apogee in the state of Tabasco where Marxist Governor Garrido Canabal expelled all priests and ministers, closed all churches, and sent his "red shirt" followers into private homes to collect and burn all Bibles and religious images…….Even there, however, Protestants not only refused to identify themselves with the persecuted Catholics, they offered public support for Tabasco"s radical governor……………..While they deplored the governor"s promotion of atheism, they expressed satisfaction that the destruction of religious images was finally persuading the masses that the icons possessed no supernatural powers…….Tabasco"s Protestants opposed the use of alcohol and so they genuinely supported the governor"s temperance crusade. In fact, several evangelists won his grudging respect, and a degree of official toleration, by giving temperance lectures at the Sunday morning workers" meetings. Moreover they acknowledged that, in contrast to former governors, Garrido Canabal had the interest of the workers at heart…"
Maria "Lucha", assist us with your prayers to keep up the good fight!