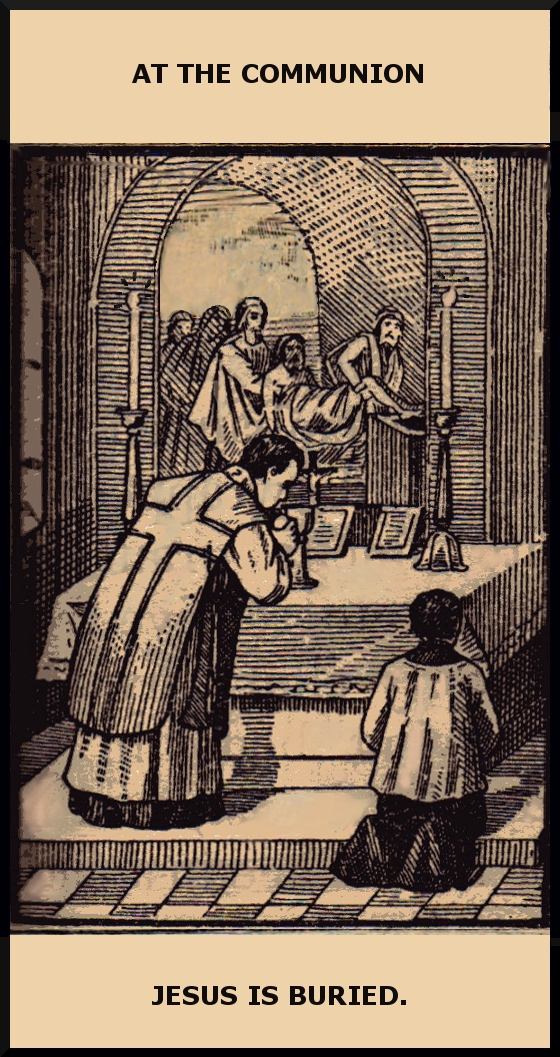 Ven. Anne Catherine Emmerich says that after taking Him down from the cross, friends of our Lord devised a support with which to carry Him to the tomb.  It had two long poles as had the Ark of the Covenant. This structure was upheld at the front by Nicodemus and Joseph of Arimathea, and at the back by Abenadar (a sympathetic Centurian) and John the Apostle.  The procession made its way to the resting place for Our Lord, to a sepulcher which Scripture  says was  new, and which Emmerich says, had been made clean and pleasing to the eye by Joseph's servants.
The priest continues with the Sacrifice by immediate preparations for a clean dwelling place within the tomb of his heart, a heart that is undefiled, which has already been freed from all mortal sin, and which is now pleasing in the eyes of God.
St. Chrysostom, Homily 24 on the 1st Epistle to the Corinthians: "When thou beholdest the pure and immaculate Body of the God-Man lying before thee on the altar, say to thyself: 'Through this Body I am no longer dust and ashes, no longer a captive, but free; through this Body I hope to obtain heaven and all it contains – eternal life, the lot of the angels, the society of Christ.  This Body pierced through with nails, death could not retain; in the presence of this crucified Body the sun was enveloped in darkness; because of it the veil of the temple was rent, the rocks were split, and the whole earth shook; this is the Body, covered with blood, pierced with a lance, from which issued for the entire universe two fountains of salvation – blood and water."
The officiating priest must receive the Body and Blood of Christ under both species as a necessary part for the completion of the Sacrifice.
Prayer:  "Lord Jesus Christ, who wouldst for my sake be buried in a new tomb; give me, O Lord my God, a new heart, that, dying in Thee, I may happily share the glory of Thy resurrection.  Most Holy Virgin, cleanse me; clothe and adorn my soul in thy most beautiful garments of grace and virtue that I may worthily receive my Lord.  Amen."
The Fathers and Doctors of the Church regarded frequent and devout Communion as a sign of predestination. Holy Communion preserves and protects the life of grace in the soul, strengthens the spiritual life, imparts an increase of sanctifying grace, fortifies and vivifies the virtues, increases fervor and generosity in the service of our loving Creator,  gives the heart joy and heavenly bliss in a foretaste of heaven, and gives it vigor for final perseverance.
___________________________
It goes without saying that the most devout way for the laity to receive is while kneeling and on the tongue!