Have yourself a very blessed  Christmas every 25th!  At the Chicago shrine, that is what the canons of the Institute do, starting things off on the 17 of every month with a novena, and culminating with a High Mass on the 25th.
For the 25th of this month, musical accompaniment for the Mass in honor of the Infant King will be Francisco Guerrero's Missa Inter Vestibulum, with offertory motet, Puer Natus Est, by Cristobal de Morales.  The Communion motet will be Ego Sum Panis Vivus by William Byrd.
Consider sending the Canons a donation along with prayer petitions which can be made online at: http://www.historic-landmark.org/offerings/.The donations will aid with the ongoing restoration of the beautiful, landmark church.
I've assisted at a few of these "Little Christmas" Masses.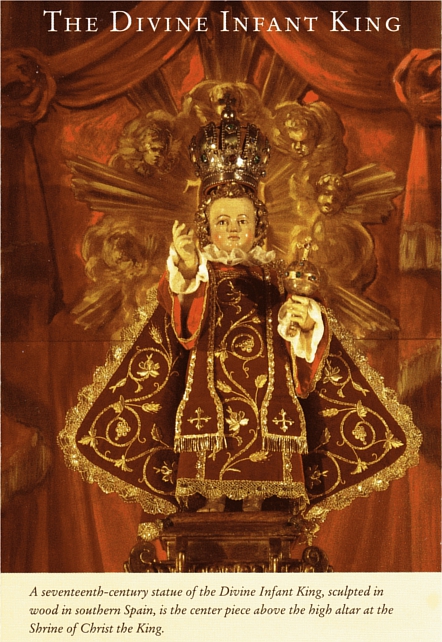 After Mass, there is a children's procession in the church with the 17th Century statue of the Divine Infant King, then a special and most powerful blessing  just for the children, and for all, the veneration of a relic of the manger in which lay the Baby Jesus.  Parents, hasten and bring your children to Bethlehem!
St. John Damascene tells us, "The honor given to an image reaches to the prototype, and St. Thomas Aquinas teaches that as Christ is to be adored with the adoration of latria, so are his images since the movement of the mind is towards the "Examplar" whose due is the worship of latria.