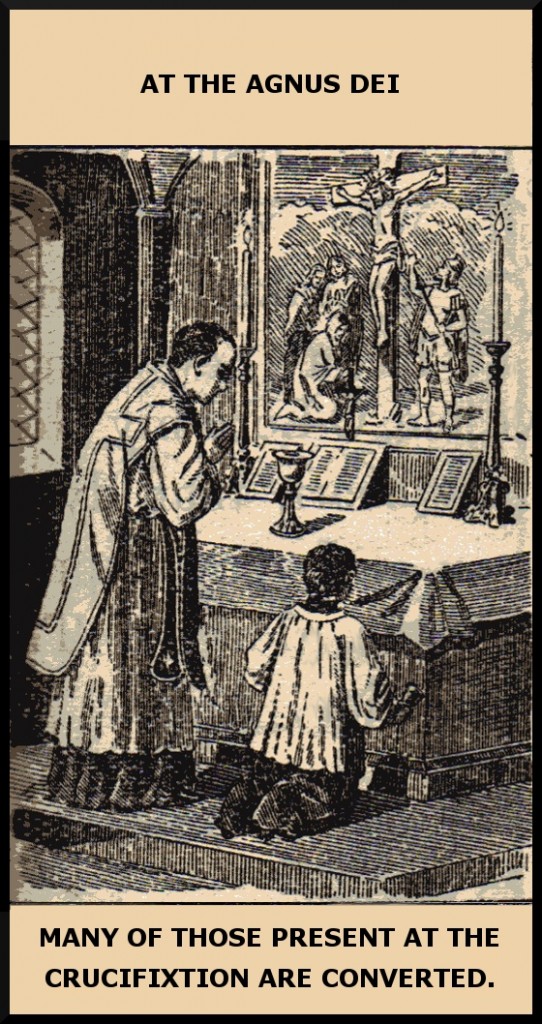 After covering the Chalice containing the Precious Body and Blood, the priest genuflects in adoration, then rises to start the Agnus Dei which he says three times while striking his breast. His posture is bent-over in a gesture of humility, reverence and holy fear, while the faithful kneel.
With the fraction rite, we saw Our Lord mystically immolated upon our altar, and at the commingling, His glorious victory over death.  Now, therefore, is a most fitting time to beg of our victorious Savior, mercy and His peace.  Gihr says, "Christ is the Sacrificial Lamb that takes away the sins of the world, only because He is the beloved Son…who conquered, moreover, with the strength of the lion – and who now reigns and triumphs as Lord of lords and King of kings."
"Agnus Dei, qui tollis peccata mundi"–  Anne Catherine Emmerich tells us that after the death of Christ, prodigies occurred both in nature and in souls.  During those moments of grace, numerous sinners at the foot of the cross were converted, among them many soldiers and even Pharisees, this the immediate and glorious fruits of the Lamb's atoning, sin-effacing, sacrificial offering of Himself.
Prayer: "Lord Jesus Christ, at whose patience in torments and blessed death, many, beating their breasts, lamented their offenses; by Thy bitter passion and death give me grace with my whole heart to make amends for my sins; and  for all here present at the foot of this mystical Calvary, be Thou pleased to bestow the gift of union of hearts and minds in the bonds of  Thy peace. Amen"
 _________________
In the N.O., the rubrics do not call for a genuflection, bent-over posture, nor striking of the breast in a penitential gesture by the priest. The rite has the priest breaking a large Host into many pieces so that the invocation of the Lamb of God may be "repeated as many times as necessary until the rite has reached its conclusion…", not necessarily the traditional 3 times in honor of the Trinity.
Also, it is quite common at this point to see the numerous "extra-ordinary" Eucharistic lay-ministers enter into sanctuary to prepare to handle our Eucharistic Lord.  Meanwhile, the congregation remains standing, instead of kneeling as in the TLM.