May 7, 2014 update: Here is the latest development.  All that's left to do is wait.  See link to our most recent news: Blessed José Sanchez del Rio.
May 15, 2013 – Please notice today's update, below in bold.
January 23, 2013: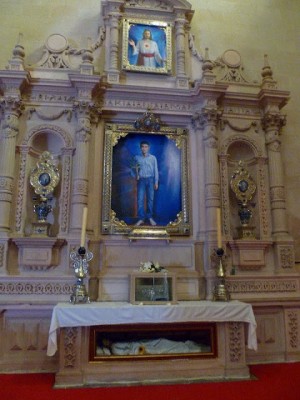 I've added one more photo of the sanctuary where the remains of Blessed José L. are kept in an urn in the parish church of Sahuayo.  Also, I've been reading that the movie does not accurately depict his character.  People who knew him say he would not have acted as he was portrayed in the movie, i.e., being disrespectful to a priest, nor was he ever a thief or a liar.  He was said to be a virtuous child from his very early years.    
Another point is that there are photos allegedly of him, wearing a military uniform.  He did not wear military garb, so there is a disclaimer that the photo  is of him.
October 8, 2012 update:  I had been trying to acquire third class relics of Blessed José, but the rector of the Sanctuary of the Shrine of the Mexican Martyrs in Mexico wanted a religious house here in the U. S. to be the center for distributing them.  Unfortunately, I do not have the time to pursue this. 
 A good friend of mine sent me some info on the child Cristero martyr, Blessed  José Luis Sánchez del Río and initially, I declined to post it because as I told him, everybody knows about him and Fr. Pro.  Well, he told me that certainly not everybody knows since he himself had only recently become aware of this little Cristero.   So, here it is.  It's not what he sent me, but with the visuals, I think this is better:
José Luis Sánchez del Río was born on March 28, 1913,in  Sahuayo, Michoacán, Mexico.  He wanted to enlist as a Cristero along with his two older brothers, but because he was so young – 13 years of age – his mother would not permit it.  He persisted in pleading with his mother, telling her that never would it be so easy to win heaven.
Then, after receiving her consent he had to convince General Prudencio Mendoza to accept him, something the General initially did not want to do, but did, upon condition that he would not actually be involved in battle.  He would be the flag bearer, who after a selfless deed,  was captured and suffered most cruel torments before being shot.
*The remains of Blessed José Luis Sánchez del Río rest in the Church of the Sacred Heart of Jesus in his hometown of Sahuayo. *(5/15/13) I contacted the parish church of  the Sacred Heart about a week ago. Someone there told me that the remains are no longer at that church; they have been transferred to Parroquia Santiogo Apóstol, Sahuayo, Michoacan.  They have a FB page here.
He was beatified on 20 November 2005 in the pontificate of Pope Benedict XVI. People have given him the title of The Martyr of Sahuayo and The Martyr of Christ the King.
Blessed Joselito, pray for us!