That's what the good bishop tells us to do when people hold the erroneous belief that in the TLM the priest "turns his back to the people."   I do hope that if any such misinformed soul should happen to stumble across this blog, the teaching presented by Bishop Sample on this Youtube might serve to dispel that very common but incorrect idea.
I have been fascinated by this bishop ever since I first read  about him about seven years ago, in of all places, the MTU Alumni Magazine!  Since he is a graduate of that school (by the way, the school which my eldest also attended) there was a very short bio of him and a nice photo. By how he was vested, in the Roman chasuble, I just knew he would be a friend of tradition. It turns out I was absolutely correct.  Not only does Bishop Sample himself celebrate the TLM, I just found out today that he will  be assisting at the ICR ordinations in Florence, Italy this July.  What delightful piece of news!
Updated August 3, 2012: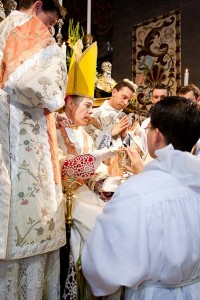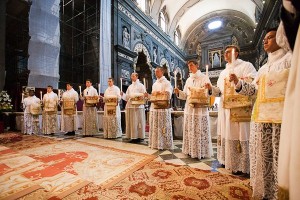 Ordination of deacons and subdeacons this past July 4, by Bishop Sample of the dioceses of Marquette, Michigan at the church of Sts. Michele e Gaetano in Florence, Italy.