The relic to which I refer is Padre Uribe's Compendium Gradualis Et Missalis Romani.  It has been lovingly passed on down from priest to priest. I will tell you who  now possesses it.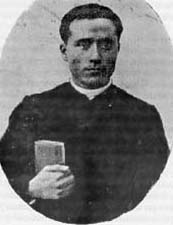 David Uribe was born of devout parents on December 29, 1888 in Guerrero, Mexico, the 7th of 11 children.  At age 24, he was ordained a priest and at 39, he was martyred by a shot in the back of the head. The reason for his execution was that he refused the offer to be made a puppet bishop under the control of the government. He died forgiving his executioners while offering his life for the salvation of Mexico and for the Church.
On the eve of his death, Padre Uribe wrote out his last will and  testament.  The part that interests us at the moment, is the mention of his books.  He wrote: 
"I declare before God that I am innocent of the crimes that I am accused of. I am in the hands of God and of the Blessed Virgin of Guadalupe. Tell this to my Superiors and ask them to pray to God for my soul. I bid farewell to my family, friends, parishioners of Iguala, and I send all of you my blessing.
To Antonio U. Aranda, tell him to pay when he can, the five hundred pesos that I owe for my tithe.
To Jose U. Garcia, in my old notebook some Masses that I have to say are listed. Those that are not crossed out, please have them said when you can.
Tell my godson, Rodolfo Ortiz, to deliver $50 pesos to Fr Ausencio Téllez, he lent it to me.
Cuernavaca, 11th of April, Holy Monday 1927
P.S. Have Antonio Aranda pick up my books and all my belongings, my vestments and typewriter at the house of the García sisters. I forgive all my enemies, and I ask God and whomever I have offended to forgive me."
One of those books which St. David Uribe entrusted to the care of Antonio, came into the possession of his nephew José Uribe Nieto, who also became a priest.   A few weeks before dying, Fr. Nieto bequeathed this treasure to a former student of his, the Rev. Fr. Evargrio Lopez Alvarez, OSB, of Morelos, México.
It is an honor and a great pleasure to know Fr. Alvarez with whom I keep in contact, and considering that one of his instructors was a nephew of a canonized saint, it should come as no surprise that Father Evagrio celebrates the Tridentine Mass.  If you can read Spanish or Latin, check out Father's link on our blog list:  volaturae.blogspot, a blog focusing on all that elevates the soul. Father has a deep appreciation for the beauty of God's creation, for the TLM, for Latin.
Padre, may God grant you the graces through the intercession of St. David Uribe to continue in his footsteps.  It seems to me that he has dropped down upon your shoulders  his mantle!