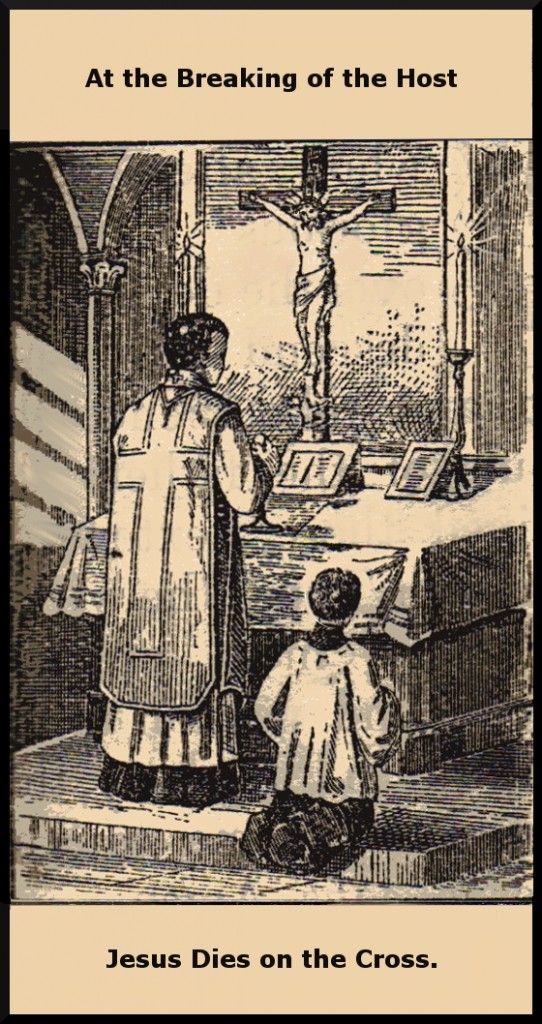 Holding the Host over the Chalice, the priest reverently breaks It in half and places one half on the patent, and from the other half, he breaks off a third small piece which he will be putting into the Chalice containing the Precious Blood.  The three Parts, which the priest holds up in a way to form what appears to be only one, represent the Mystical Body of Christ, i.e., His Church in its three constituent parts:  the church militant, the church suffering, the church triumphant.
This action of breaking the Host portrays the sacrificial nature of the Mass.  Gihr says:  "The Host is broken in order more vividly to represent in a liturgical manner the Eucharist's character as sacrifice; for the breaking symbolizes in an expressive way Christ's bloody and violent death on the Cross, inasmuch as it indicates that wounding and lacerating which caused the separation of His soul from His body, that is, brought about and resulted in His death. In the fraction of the Host,  Christ is figured as the  Lamb that was slain and bruised for our sins (Is. 53,5 )."
"And Jesus crying out with a loud voice, said: 'Father, into thy hands I commend my spirit.' And saying this, He gave up the ghost." (Luke 23:46)
The earth cloaked in darkness quaked, graves gave up their dead and the veil of the temple was rent in two. "And the centurion who stood over against him, seeing that crying out in this manner He had given up the ghost, said, 'Indeed this man was the son of God!'" (Mark 15:39)
Prayer:  "Lord Jesus Christ, who for my sake, dying on the Cross, didst commend Thy soul unto Thy Father; grant that my old self may be crucified with Thee to die to sin, and in the hour of my death  commend my soul unto Thee, whom I profess to be Son of God and my most loving Redeemer.  Amen."
_________________________
In the TLM, the priest kisses the paten on which he will place the broken Host, the Body of our Lord: "The Host laid down on the paten is our Lord's life laid down for the world." – The Mass by Fr. J. A. Dunney
Fr. J. A. Dunney says that the priest breaks the Host while saying, "Through the same Jesus…" to show that it is through the power of our Lord that the priest repeats the Fraction rite.
In the N.O. the breaking of the Host is done after the exchange of handshakes and greetings to one another.
Furthermore, the fraction rite gives emphasis not to the traditional doctrine of showing the violent death of our Lord, but rather to the community: The General Instruction of the N.O. Roman Missal, 83 states: [Breaking of the Eucharistic Bread] "signifies that the many faithful are made one body (1 Cor 10:17) by receiving Communion" and "The action of the fraction or breaking of bread, which gave its name to the Eucharist in apostolic times, will bring out more clearly the force and importance of the sign of unity."