In my opinion, a little too slowly.  Many Catholics pay no heed to "mere desires" of our Holy Father. (A friend of mine has told me that her granddaughter recently made her First Communion, and that all the children in her group had been instructed to only receive in the hand, standing; and receiving from the chalice was also mandatory.) But, the day will come.
The following is my translation of information gleaned from our friends at  Acción Litúrgica, whose original source for the post is Una Voce Costa Rica: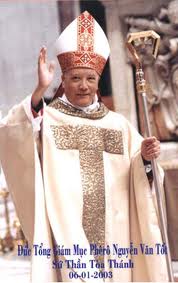 Archbishop Pierre Nguyen Van Tot, Apostolic Nuncio of His Holiness to Costa Rica, has formally solicited that  Communion be once again given in the mouth and to the kneeling faithful of said country:
A bodily position corresponds to the greatness of the Eucharistic Mystery; since, as we have explained before, it is necessary to make sure that the faith professed be expressed and transmitted suitably in the liturgical actions.  And this is particularly urgent in the [historical] context in which we are living; therefore, the necessity is urgent to counter the already mentioned materialism and relativism of our times with particular strength.
For this reason, without devaluing  that which up till now has been done,  I am convinced that it is necessary to take new measures in response to those pressing circumstances in which we live. This is the propitious moment, adhering to the ecclesial spirit wonderfully reflected in canon 752,  for us to heed the recommendations that – although not having been given with the mark of definitive teaching – are fruit of the most fervent  pastoral solicitude  for all the churches. Indeed, Pope John Paul II as well as our present  Sovereign Pontiff, have indicated a path of testimony and teaching that we could easily summarize with the words of Benedict XVI:
"…In now having that Communion be received kneeling and given in the mouth, I have wanted to set a signal of respect and to call attention to the Real Presence (…) I have wanted to establish a clear sign: It must be seen with clarity that there is something special. He is present here, before whom one falls to his knees. Pay attention! "
His Eminence, Cardinal Antonio Cañizares Lloveira, Prefect of the Congregation for Divine Worship and  Discipline of the Sacraments has also been an echoing voice of this alert, making us see the benefit of heeding said recommendation.  In consequence of this, and taking into account the necessity that we also put it into practice in the dioceses of this country, I formally ask the Episcopal Conference of Costa Rica, taking into account the universally constituted norms, that in this Ecclesiastical Province there be a return to Communion being given to the faithful in the mouth, while kneeling.  In doing this, we will be giving an important impulse to the correct understanding of the immeasurable greatness of the Eucharistic Sacrament.