It was disappointing that only 50-60 people attended the Mass on May 5.  But for those who assisted, it was an inestimable grace.  The church was absolutely beautiful, and Father's sermon was excellent!  He spoke of the need for reparation to the Immaculate Heart of Mary and of the need to do penance.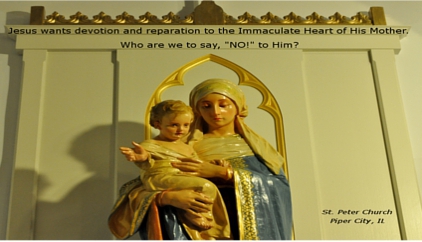 Father mentioned the vision of the third secret of Fatima in which an angel was seen to the left of our Lady, brandishing a flaming sword as if ready to engulf the world in flames, while crying out three times, the word, "Penance!".   He spoke of fallen-away Catholics for whom we must pray to return to the faith; and that there are sins worse than those of impurity such as sins of injustice like defrauding the poor and taking advantage of the helpless.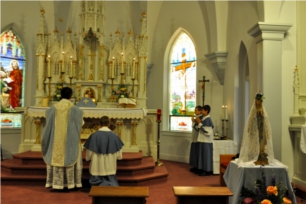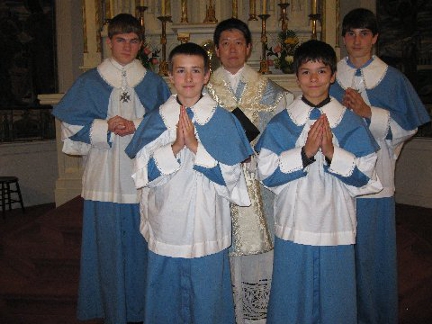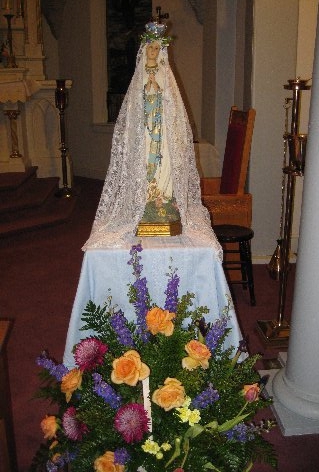 I received some more photos which I have added.  The statue pictured above is a very old and most beautiful image of our Lady, made in Spain, and which appears to be hand-carved.  This image was carried in the entrance procession and placed just inside the sanctuary.  Where our Lord is, our Lady is always close by!
A sincere and heartfelt "Thank you!" goes to Canon Ueda, Paul, Chris, the  ICR candidates, and servers; to my friends and family who are of immense help in so many ways.
You will be remembered in two Masses at the Institute.  God bless you all! May God reward your charity!
We also want to publicly give gratitude to St. Joseph, whom we have taken as our patron to assist us in our efforts to extend the celebration of the TLM in our area.