…in Cedar Rapids, Iowa. From what one can see of the priest, he looks to be almost as young as those students!  There is no denying it.  The wave of the future is a return to tradition. May God be pleased to continue to pour forth such rich graces of mercy for His Church. Thank you, Lord!
Xavier Students Celebrate Traditional Latin Mass
Posted May 4, 2012 9:19 am by Jessica Schneider / Xavier High School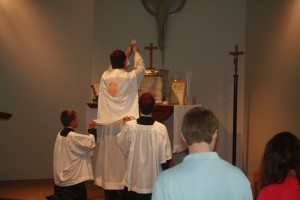 On Thursday, May 3, Father Chris Podhajsky celebrated a traditional Catholic Latin Mass in the Xavier High School chapel for Latin students and members of the Xavier community.
The theology of the Catholic Faith is expressed in the rich symbolism of the extraordinary form of the Roman rite, commonly known as the Traditional Latin Mass.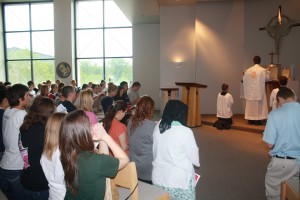 Latin is the maternal language of the Roman Catholic Church. While the Eastern Catholic Churches use their own sacred languages, for the greatest number of Catholics, Latin is the universal language of the Liturgy. Thus, the unity of prayer and faith has been preserved over all national differences for centuries. Latin has also inspired literature and Gregorian chant, and is the language of the Second Vatican Council.
 Xavier is one of two Iowa schools still teaching Latin.