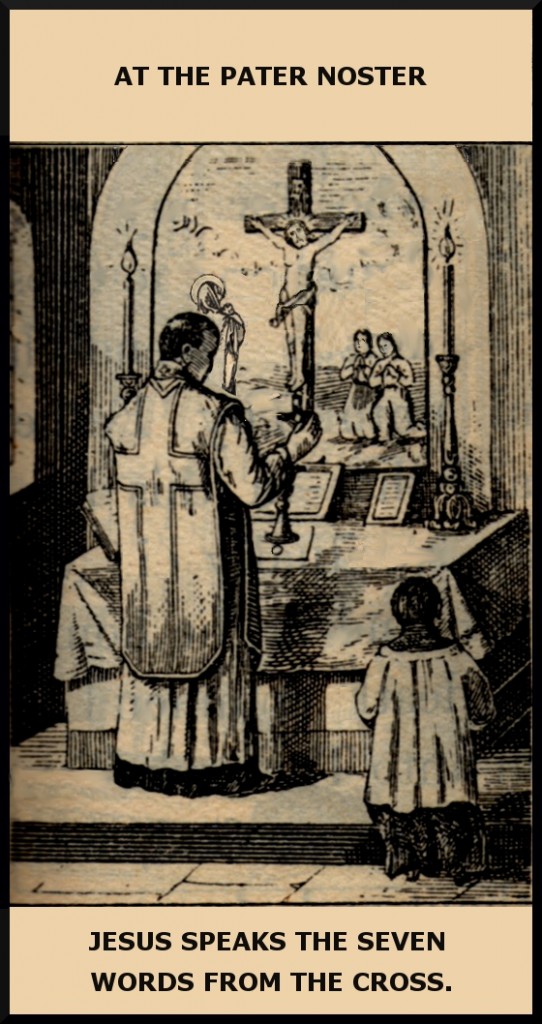 Tertullian calls the Pater Noster "the abbreviated Gospel."  This most perfect of prayers consists of 7 petitions by which we ask for the graces necessary to regulate our affections, inclinations and desires. It "contains almost the whole sum of the doctrine and law of Christ", says Gihr.
At this point in the Mass, the Pater Noster, with its 7 petitions, calls to mind the 7 last words spoken by our dying Savior.  It was with his third "word" that He gave us His Mother.
Interestingly enough, Holy Scripture also records a mere seven words of His Blessed Mother.  In this little detail, open hearts can detect the whisper of the Holy Ghost intimating at the closest of unions between Mother and Son in God's plan of redemption for the fallen human race.
Our Lord invites us into the intimacy of a familial relationship with His Father, but that is not all.  A family needs a mother; so now, from the Cross, in His last will and testament, He gives us one: "Mulier, ecce filius tuus."   Thereafter, will be applied to her, the words of Ecclesiasticus 24,11: " And so was I established in Sion, and in the holy city likewise I rested, and my power was in Jerusalem. And I took root in an honorable people, and in the portion of my God."
Prayer: "Lord Jesus Christ, who, (among the other words spoken by Thee on the Cross) didst commend Thy Mother to Thy beloved disciple, and him again to her; I commend unto her care myself and all I have, with a firm faith and confidence in Her protection, and I beseech Thee by the aid of Her prayers, to preserve me amidst the troubles and dangers of this life by granting me the graces necessary to regulate my affections, inclinations and desires.  My Mother, be my guide and my protection through the perils of this life. Amen."
________________________
Gihr states that the "Amen" at the end of the Our Father has a particular significance. Until 1958, only the priest said it, and it expressed, "not as at other times consent and desire, but is, so to speak, the answer that God has received and heard the petition of the people." (The Holy Sacrifice of the Mass… pg. 699)
In the New Missal, that "Amen" was eliminated and replaced with the doxology with which Protestants pray their version of the Our Father. "This acclamation [doxology] was a new addition to the Communion rites and was probably added for ecumenical reasons." – Father Edward McNamara, professor of liturgy at the Regina Apostolorum university)
Furthermore, in the New Mass, the sacredness of the moment is trivialized and made profane by the common practice of hand-holding, a practice indicative of personal intimacy which is totally alien to Scripture and Tradition in the worship of God.