"…dispose our days in Thy peace, command us to be delivered from eternal damnation…"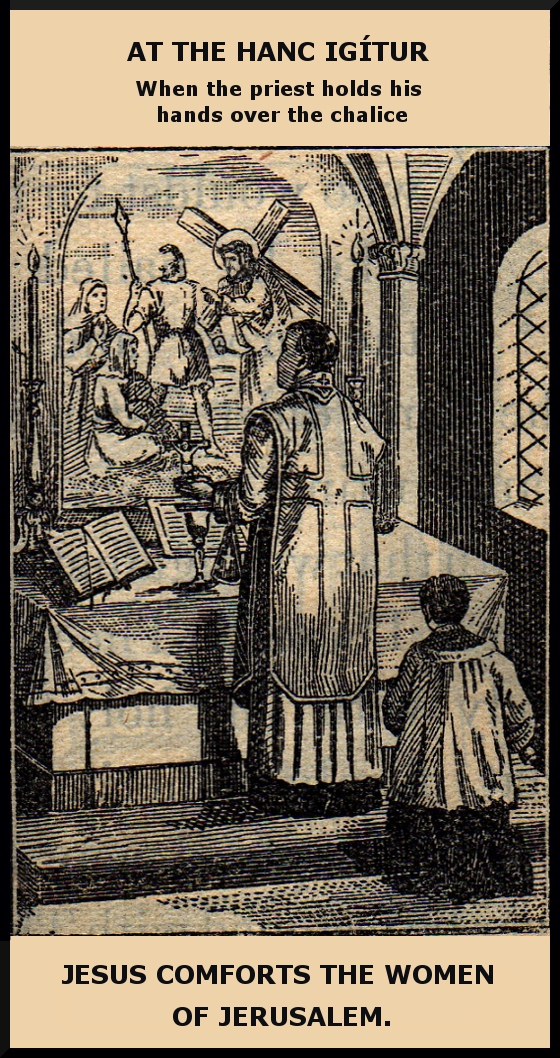 Fr. N. Gihr: "Let us call to mind the impenetrable darkness that envelopes the mystery of predestination for us poor mortals here below and we shall be moved spontaneously to direct often and earnestly similar petitions for eternal salvation to God to whom alone the number of the elect is known…"   
The priest holds his hands over the oblation with his thumbs overlapped in a cross.  There is mystical meaning in positioning the hands over a victim.  As in the Old Testament, it is symbolic of transferring something to another, and in this case, the transference of our sins and guilt unto the Victim who makes expiation for us through His death. 
The women of Jerusalem bewail the sufferings of our Lord, but He, foreseeing the destruction that would fall upon the city for its great crime, has compassion on them instead.   Isaiah 1:21, "How is the faithful city, that was full of judgment, become a harlot? justice dwelt in it, but now murderers."  As for Himself, He willingly, joyfully and lovingly accepts to bear our sins for which He will make satisfaction to His Heavenly Father. His sufferings and His death will be efficacious for the salvation of many.   
Gihr continues: "God receives into heaven only those who by faith and works belong to Him and are entirely His. Hence we must faithfully employ the grace of God, work out our salvation in fear and trembling, making our calling and election sure by good works (Phil. 2:12;  2Peter 1:10).  Be poor in spirit, be meek and humble, live in holy and salutary compunction, hunger and thirst after greater perfection, love and practice works of corporal and spiritual mercy, carefully preserve purity of heart, seek and endeavor, as far as possible, to live in peace with all mankind, be glad and rejoice when, by reason of exercising these virtues, and for the name of Jesus, you are obliged to suffer persecutions and insults.."

Prayer:  "Lord Jesus Christ, who, on that miserable road of Thy torture, didst so lovingly admonish the women that wept over Thee to mourn for themselves; give me grace to shed tears of sorrow for my sins which have grieved Thy loving Heart, that with thy grace, I may wash off my sins and become pleasing to Thee, and thus, be able to return Thy love.  Amen."
+++++++++++
In the N.O., the Hanc igitur was grouped together with the Te igitur, Memento,  Communicantes and the Canon – consecration prayer –  into what all together is called a "Eucharistic Prayer". The Book of Catholic Worship, 1966, in the one paragraph explaining the N.O. Eucharistic Prayer(s), uses the terms, "holy meal", "communion meal", "holy meal". Nothing is said about the sacrificial nature of the Mass; the symbolic positioning of the priest's hands forming a cross over the oblation as in the Hanc igitur of the TLM, was eliminated.