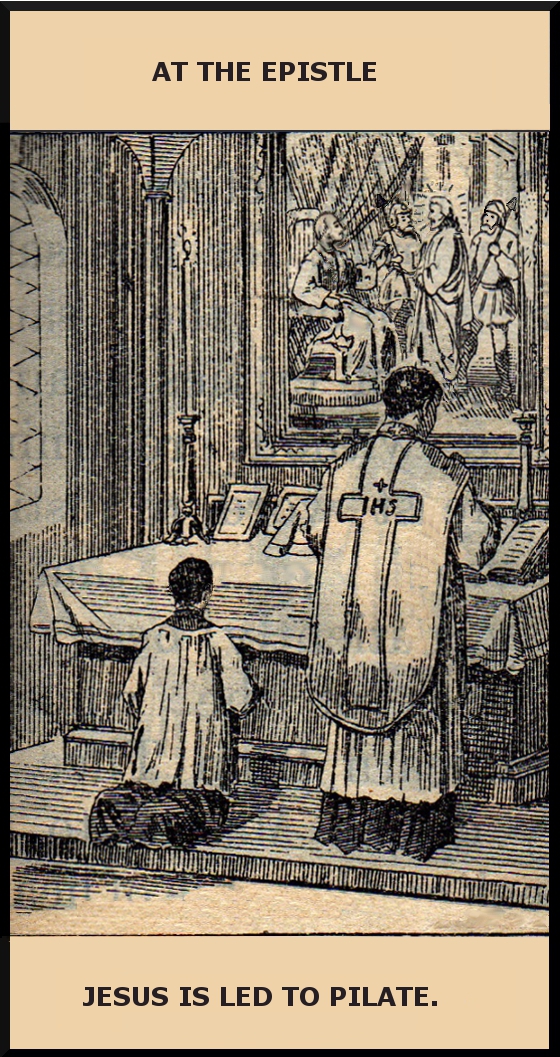 After the Gloria, follows the Collect – a prayer rich in Catholic doctrine – and then the reading of the Epistle.
In the low Mass, the priest reads the Epistle, while in the High Mass, it is chanted by the subdeacon, a cleric with authority to teach and instruct.  The readings are  missives written by one of the Apostles which stress matters of doctrine and moral conduct.
We may consider Jesus being falsely accused before Pilate: "Lord Jesus Christ, who wouldst be brought bound to Pilate and before him wrongfully accused; teach me to avoid the deceits of the wicked, and to profess Thy faith truly by good works."
In the N.O. the Epistle is most commonly read by a layperson while the priest sits in his Presider's chair.
As with the Propers, the Scriptural readings for the N.O. underwent the same "sanitizing" process, i.e., verses that were offensive to the thinking of modern man were excised.  On Sunday's anyway, Catholics no longer hear about the antagonism of the Jewish leadership against our Lord, the necessity for detachment from the things of this world, damnation of souls, hell, and punishment for sin, etc.  Jacob Michael wrote about this in Gutting the Gospels: The Sacrilegious Stripping of the Novus Ordo Lectionary.